Onion Tanks are self supporting. A "floating collar" enables them to rise to the maximum fill height as they fill. They point advantage of a Onion tanks over a pillow tank is the ability to fill and empty it faster than a standard pillow bladder tank or square bladder tank. This is the reason that the large opeing aperture within the floating collar.
The bigger opening aslo let onion tanks particularly easy to empty and clean. The ability to ensure it is empty also makes it easier to pack and transport relative to a standard pillow tank.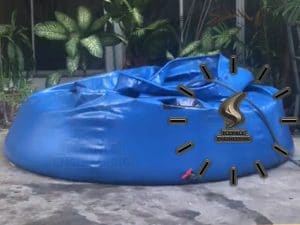 Like other water tank, an onion tank should be laid out flat on smooth ground or on a groundsheet before filling. There should be no wrinkles in the base of the tank. The seam between the side wall and the floor of the onion tank should be visible all the way around the tank before filling commences. The onion tank can then be easily and quickly filled. The picture above shows the filling of an onion tank and the placement of a lid on top of the tank. While onion tanks lids are designed to block UV and dust, they are not air or water tight.
Multiple Sizes: 100 ltr to 20,000 ltr The below table is some main sizes for reference. The size is absolutly customizable. Any requirements please discuss with us.
Product

Identification Code

Diameter(full)

(floor)m

Diameter(full)

(opening)m

Height

m

Weight

kg

Fold size

m3

FSO 1500L

2.0

1.0

0.8

9

0.04

FSO 3000L

3.6

2.0

0.6

13

0.05

FSO 5000L

3.0

2.0

1.0

17

0.10

FSO 10000L

3.7

2.4

1.3

28

0.22

FSO15000L

4.5

3.4

1.2

36

0.29

FSO 20000L

5.4

3.8

1.2

42

0.35
– shrink-resistant round shape – float ring made of closed-pore foam – self-erecting – low manpower requirement – lightweight – low time expenditure – constructed of heavy-duty reinforced fabric with PVC or TPU coating.
– Fire fighting in jungle fires of any remote areas – Temporary water storage, for example for swimming pool maintenance – Farms and rural site for irrigation, etc., can be move when needed – Temporary building water for construction sites in suburban or remote areas – Rainwater storage, especially for areas with large differences between the rainy and dry seasons – Leak control especially in the case of rapid deployment and filling of fuel tanks – Remote water supply, such as drilling and exploration operations